This American Life just reaired a 2001 segment called "Wonder Woman," about Zora, the girl who wanted to be a real-life superhero. That started me to thinking: What would a writing superhero look like?
Starting at the tender age of 13, Zora started keeping a list of everything she needed to do to become a human superhero by 23. Among the highlights: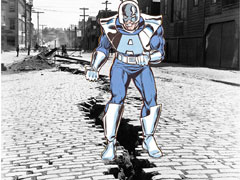 Martial arts
Chemistry
Hang Gliding
Helicopter and airplane piloting
Wilderness survival
Evasive driving
Demolitions
Knife throwing.
Zora lived and breathed by that list for years, and finally completed it right at 23. Then she had to figure out how to incorporate her superhero skills into a career, since there's not exactly a job for superheroes in the real world (yet). That led Zora to the CIA, which ultimately turned her down, but she settled for the next-best thing: working as a private investigator. (You can listen to the full clip here.)
That little spark has inspired me to draft my list for becoming a writing superhero. And so what if I'll be a few years beyond 23 when I'm done? It's never to late to start! I'm starting my list this week. Item #1: Sit down and WRITE!
Meanwhile, I invite you, dear readers, to  join in the fun and share highlights from your own list! What would you have to do to become a writing superhero?
Maybe instead of the A Team or the X-Men, we can all be the W Team!!!
Posted by Cyndi Hughes